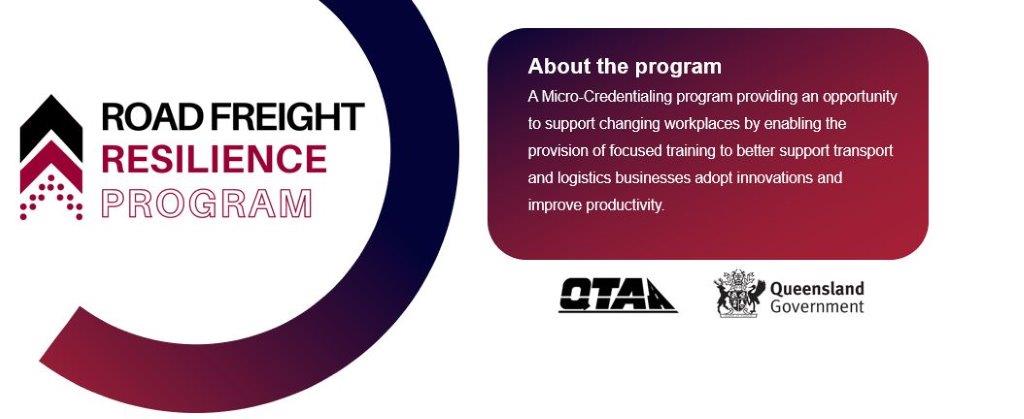 ---
About the Program
The project will support the transport and logistics businesses and deliver a range of short online courses focussing on improving efficiency and capability to manage your small to medium businesses into the future.  It is open to businesses based in Queensland.
Whether you are an owner driver or have a fleet of trucks, these courses will equip you and your staff with new knowledge and skills to review and work on critical areas of your business to ensure it remains viable and profitable.  Most courses only take up an hour of your time so they can easily fit into your busy schedules.
The online delivery will allow for a broader reach where access to face-to-face training is limited. The target delivery areas will include in cities, regional and remote areas across Queensland.  

How will the courses be rolled out?
The course will include webinars and additional resources in the learning modules.  Each course will commence with the first webinar (replay available).  Once enrolled in a course, the entire course content and webinar replays are available for the duration of the program.
Do courses have to be completed in one session?
The courses can be completed in full or in stages at any time after the first webinar. Subsequent webinars will contain updated course content. Webinars will be available to view (within 24hrs) with replays accessible anytime for the duration of the course.
Who can enrol in the program?
Only people working in the sector in Queensland are eligible to enrol in thses courses.
What courses are being offered?
Micro-credential courses will be developed for online delivery in the following categories:
Efficient business practices

Financial Facilities
Asset Protection
Credit terms
Accounting & Taxation
Insurances

Road Freight Job Costing
Employment Relations – Interpreting the Award for your employees
Fuel Tax Credits
Covid-19 Driver Awareness (Free until December)
Anti Discrimination, Disability and Sexual Harrassment Awareness (Free)
Critical Incident Management
Recruitment and Training

Finding the right people
Training and development

Managing Change
Maximising use of technology
Social Media
Heavy Vehicle Safety Around Ports
Courses available now until 31 July 2022.
Click on the link below to view the courses.
For more information about this project, please contact Lisa Fraser, QTA's Membership Service Manager on
mobile 0405 152 952 or E: lisa@qta.com.au